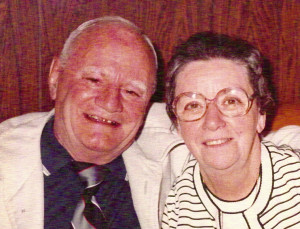 Joseph Chanel O'Neill was born on 18 April 1907 in South Philadelphia's 39th ward. Joe was the second of six children born to Patrick Valentine O'Neill and Mary Ellen Haggerty, and was nearly an "Irish twin" to his older sister Marion, born 28 March of the previous year. Joe was probably brought home to a brick house on 1137 W. Ritner Street, which the family occupied in 1910 according to the US Census.
Patrick and Mary Ellen were 30 and 31 respectively when Joe was born, and they had a new child every two or three years until 1922 when Mary Ellen was 45 or 46 years old. Helen was born in 1910, Emmet in 1912, Elizabeth "Betty" in 1914, Edmund in 1918, and finally John in 1922.
In mid-September of 1918 when Joe was 11, the Spanish Influenza hit Philadelphia, and it hit hard: Philadelphia had the highest death rate of any city in America, recording 12,000 deaths, most falling between 4 October 1918 and 20 October 1918. Researchers into the flu believe that the Liberty Loan parade on 28 September 1918—where thousands of Philadelphians packed the streets to support the war effort—may have been a catalyst that accelerated the spread of the disease. The reality in Philadelphia might as well have been torn from the pages of Albert Camus' The Plague. Panic was widespread: all saloons, picture houses, theaters and other forms of public entertainment were closed just a few days after the parade, when the number of new cases in a single day skyrocketed from dozens to over 600.
Jim O'Neill, Joe's son, relates that, with the exception of Joe and his mother, the entire O'Neill family came down the Spanish Flu.
Joe's infant brother, Edmund, died in 1919 of diphtheria.
By 1920, the O'Neills had moved out of South Philadelphia's 39th Ward and across the Schuylkill River, where they purchased a home at 5956 Chester Avenue on the corner of 60th Street near the city's western limits. The family probably needed more space: it had nearly doubled in size with the birth of Helen, Emmet, and Betty, and Marion and Joe were entering their teens. It also may have been the home of Patrick's store. According to the 1930 census, Patrick was running a candy store, and Joe refers to "the store" in a letter he wrote to his sister, Betty, in 1993.
Merchant Marine
On 6 May 1925, at the age of 18, Joe enrolled in the Pennsylvania State Nautical School, which advertised that it "Trains Young Men to Become Officers in the American Merchant Marine. The two-year program of instruction was entirely focused on practical seamanship: classes were held on-board the U.S.S. Annapolis, a three-masted, steam-powered vessel, and students went on two voyages per year, once in February/March, and a longer cruise from July to September. Students are taught dead reckoning, finding latitude and longitude from the stars and planets, and how to sail both under steam and sail power.
In the summer of 1925, Joe went on the long cruise across the Atlantic to Europe and then around the Mediterranean, logging a stop in Rome, where we have a picture of him at the Coliseum with his classmates (see appendix for photo). The program was rigorous and had a dropout rate of nearly 50%, but persevered to complete the program, and graduated in May of 1927. For more information on the Pennsylvania Nautical School, see the Independence Seaport Museum special exhibit at http://www.phillyseaport.org/web_exhibits/mini_exhibits/pennsylvania_nautical_school/.
His first job was with the Southern Steamship Company based on Pier 46 in Philadelphia, where he served as Third Officer of the S.S. City of Houston under the command of Captain W. R. Thomas. Joe worked at the company for only a year before moving to New York City to work for the American-Hawaiian Company. On a 1942 application for employment with the US government, he cited low pay and limited opportunity for advancement as his reason for moving, and he landed both with American-Hawaiian. He started as 4th Officer and advanced to 2nd Officer, with a commensurate 25% increase in pay. He also landed in the company's newsletter: his quartermaster—who couldn't swim and had join problems—jumped overboard tied to a rope to rescue one of the captain's two dogs. Joe, the 3rd Officer, followed the quartermaster down to the water and kept the pair afloat until a yacht could come by to haul the trio out of the water.
Despite his job in New York, he was still recorded in the 1930 census as living with his parents and siblings at 5956 Chester Avenue, but a year later, at his marriage, he was listed as living at 5931 Springfield Avenue two blocks away.
Marriage to Mary Devaney
In the 1931, Joe married Mary Josephine Devaney, a fellow Irish Philadelphian from the neighborhood. The two had met through Joe's sister Helen, whom Mary met at school and wanted to know better. Mary's mother, Delia, said she thought she knew the O'Neills—something Mary thought was ridiculous. There were thousands of O'Neills living in Philadelphia. But somehow, Delia did know them, and the families quickly became close.
The best man at the wedding was Emmett P. O'Neill, Joe's brother. Presiding was Father Quinn, a Marist and friend of Joe's father from their days together in the Marist order. After their honeymoon in the South, Joe moved in with her family at 5948 Warrington Avenue, four blocks north of his parents' home at 5956 Chester Avenue.
The Depression and the Civilian Conservation Corps
For the next year, Joe remained at sea, and wrote Mary regularly—every Wednesday and Saturday. In his letters, he and Mary clearly had begun talking about Joe taking a job on shore, but Joe's was initially reluctant, telling stories about colleagues who went ashore, took jobs selling vacuums door-to-door, and were back in the Merchant Marine within two months, penniless, because the sea was all they knew.
Joe's dad, Patrick, began starting up a commercial, mobile lending library in 1930, and Joe clearly agreed to come ashore at some point to launch this business with his dad (Mary took a job working in Patrick's store at 5956 Chester for a period, and helped out with the library as well). But Joe kept bringing up how lucky he was to even have a job during the Depression, and despite his frustration with the lack of advancement and the two pay cuts, he clearly wasn't going anywhere.
Then Joe started talking about how ships were getting "laid up" (that is, taken out of service and the crews released). His ship, the Willpolo, was instead leased to another company, because its owner couldn't make enough money on it. The Willpolo was in the Gulf on its way from Seattle back to Baltimore (home port, where he and Mary would rent an apartment in a hotel for a week or two between sailings) when they were leased, and were promptly ordered to turn back around. It was Joe's longest (and final) cruise.
When they got to Seattle in August, the Willpolo was laid up. Everyone was laid off in Seattle—didn't matter whether they lived there or not, and those laid off weren't offered the substantial amount of money required to get home. The only exceptions were the officers, including the 2nd and 3rd mate—Joe was the third mate. They were given $100 per month for food and allowed to sleep on ship. If/when a post opened up on a ship in Seattle, he would get a post, but only if thee rank matched and there was no one more senior. The 2nd mate got a job within three weeks, but by the end of August (when food stopped getting served on the mothballed ship), Joe was fed up. He was about to just quit, when his Captain counseled that, if he did, the company would have nothing to do with him, and he'd have to make his own way home. Eventually, by mid-September, Joe managed to find an open passenger berth from his employer that would get him home at no-cost. But by leaving his post in Seattle, he lost his seniority–all the other laid-up 3rd mates would get a job before him.
One year and five months after the wedding, Joe had effectively resigned his post with the American-Hawaiian company to stay with his new bride. Jobs on shore were hard to come by, and Joe ended up working with Emmett and his father as salesmen for the O'Neill Lending Library from October 1932 until June of 1935, but at a 33% pay cut, according to a job application he submitted years later for a job with the Navy Department.
After returning to shore, Joe and Mary had two sons together:
Joseph Patrick Chanel O'Neill (1933-2005)
James Michael O'Neill (b. 1934)
With two new sons, Joseph Patrick (born October 1933) and James Michael (born a year later in November 1934), Joe needed a pay raise. He had signed up with the US Naval Reserve and was appointed Ensign in November of 1928, and it was this role that landed him a better paying job. On 8 April 1935, Congress expanded the Civilian Conservation Corps (CCC) with the Emergency Relief Appropriation Act, doubling enrollment from about 250,000 in July of 1933 to 505,702 in August of 1935. It's unclear how Joe landed an officer role with the CCC—the Army was running the camps, not the Navy—but his reported salary of $2,400 per year as a US Naval Reserve Ensign managing 20 to 200 men working for the Mess and Camp Exchange at Williamsport, Pa. far exceeded the $360 that most CCC enrollees earned.
While Joe was promoted to commanding officer in May 1938, his time in Williamsport was soon to end. After the camp was transferred to civilian control in November 1939, he was reassigned to a new post. According to a work history he submitted to the Navy Department in World War II, he was running a CCC camp in Fort Lewis, Washington. But in 1940, he was living in Bedford, Pennsylvania. His son, Jim, recalls that they rented an apartment above a sweets store, and that he and Joe were regularly treated to ice cream by the owners. They did move out to Washington State, but Jim thinks they lived near Yakima, Washington for a time, rather than Ft. Lewis.
Greenbelt and the Navy Department
Joe probably began looking for a job that would get him back to the East Coast shortly after his assignment to Washington State. With the United States ramping up its military capacity with Lend-Lease and other pre-Pearl Harbor programs, the Navy was investing in modernizing its hydrographic maps for a war that FDR expected would begin soon. Joe started work for the Navy Department in Suitland, Md. in January 1941, moving his family to 24P Ridge Road in Greenbelt, Md. Greenbelt would be Joe's home for the remainder of his life, and he would stay with the Navy Department until his retirement in the early 1980s.
The town was entirely new, having been planned in 1935 by the federal government to provide affordable housing for government employees. Intended as a self-sufficient cooperative community, applicants for residency were interviewed, and had to express a willingness to get involved in building and fostering community. He and Mary passed the test, and followed through on civic involvement, becoming founding members of St. Hugh's Church. Joe was also a member of the Knights of Columbus, and served on the Credit Committee of that organization's Credit Union.
Joe and Mary also pushed their sons in academic achievement, and both Joe and Jim were admitted to Gonzaga College High School. Gonzaga, founded by the Society of Jesus (more commonly known as Jesuits) in 1821, is a premier private high school in Washington, D.C. that has a variety of prestigious and infamous graduates, including several members of the House of Representatives, a Senator, and Presidential Cabinet members On the infamous side, Gonzaga can boast a conspirator in the Lincoln assassination, as well as the radical conservative Patrick Buchanan.
Though neither Joe nor Mary graduated from high school, they made sure both their sons went on to college. Joe Jr. entered the Jesuit order in 1951, and obtained a slew of academic credentials, including a degree from Fordham. Jim matriculated at Georgetown in 1952 and obtained a degree in Library Science.
Both sons stayed close to their parents for most of the 1950s. After graduation from Georgetown, Jim found a job with the Washington, D.C. Public Library system, where he would remain for his entire career. Joe Jr. ranged a bit further, with his novitiate in Wernersville, Penn. Northwest of Philadelphia, juniorate in upstate New York, and finishing off his studies in Woodstock, Md. His first job in 1958—called a regency—was teaching at Loyola High School in Baltimore.
In 1959, Joe Jr. went on a mission to Osorno, Chile where he taught for a few years. In 1963, he was ordained a priest in Buenos Aires, and his parents and brother made the long trip by plane to attend.
For a working class Irish Catholic family, having a son as a Jesuit may have trumped the classic professions of doctor or lawyer. So when Joe Jr. told his parents in 1969 that he was going to marry a woman 13 years his junior, it didn't go over well. The Anglican priest that married 36-year-old Joe Jr. and 23-year-old Anne Fitzgerald was a friend of Joe Jr.'s, and deeply relished the experience: he said it was the only wedding he'd been to where the mother of the groom, rather than the bride, cried the whole time (metaphorically, at least: Mary wasn't actually in tears at the wedding, judging by the video of the ceremony. And even if she didn't smile at the wedding, you wouldn't have known: she smiled so much that one was etched into the lines of her face).
Joe Sr. helped his wife adapt to her son's marriage and departure from the Jesuits and the Catholic Church, but when Joe and Mary met their first grandchild, Chanel, any lingering disappointment melted away.
Retirement
Joe retired from the Navy Department in 19?? after ?? years. In 19?? he had a heart attack ??? more details ???.
Joe and Mary purchased a ground floor apartment in Winter Park, Florida where they spent they wintered through the 1980s and early 1990s.
Joe grew increasingly frail as the years passed, and his memory and anchor in time began to erode. His rock was wife Mary, who kept him tethered to life and the present. So in June of 1993 when Mary passed away, Joe's decline accelerated: while he couldn't remember what happened yesterday, he knew Mary was missing, and so suffered the shock of her death day after day.
A few months later in late September of 1993 at the age of 86, Joe was checked into the hospital with heart trouble. He was quickly on life support, and his two sons were left with the agonizing choice of whether to continue with medical intervention. After one difficult night when Joe may have signaled that he was ready, the brothers decided to disconnect the respirator. Joe's condition improved for a day as he began breathing more regularly on his own, but the next day, 2 October 1993, Joe passed away.
He is buried at the Gate of Heaven Cemetery in Silver Spring, Maryland.
Memories of Joe
Jay Yantosh wrote of his uncle Joe in 2012:
Know to his sisters as Silent Sam. Never got to talk around them. Could talk Aunt Helen into trying anything, an admission she made freely.
He once convinced her to kick the man repairing their furnace into the opening and stick a knife into the electrical outlet to see what reaction she would have.
Was supposed to be a bad driver. Was once driving my mother (Betty) and my Grandmother around. When Grandmother asked him if he should be driving on the left side of the road he was supposed to have replied "Mother the rules of the road are the same as the rules of the sea." I don't think my Mom or Grandmother knew what the rules of the sea were so they didn't continue the conversation.