Joseph Fitzgerald was born on 5 May 1828 in County Clare, Ireland, to James and Catherine Fitzgerald.
I haven't been able to find any records that match what I know of Joseph, so everything about his life before his marriage to Ellen Burke in Wisconsin in 1855 is educated guesses.  
I can only speculate where in County Clare he was born and raised, whether he had any siblings, what his father did, etc.
I attempted to narrow it down by looking for his parents: there were loads of James Fitzgerald's living in County Clare in the 1840s, and I was hoping I could get a lucky break and eliminate all but one of them. If you're incredibly bored—and with our lovely COVID-19 lockdown, maybe you are—you can check out my detailed video about my investigation.
Here's the short version: Joseph's grandson wrote that he was raised about ten miles from Limerick. If we draw an arc at ten miles from Limerick, it intersects with three of those many James Fitzgeralds, including a couple named James and Catherine Fitzgerald in Clooney, and at least one James Fitzgerald, wife unknown, in Kilseily Parish.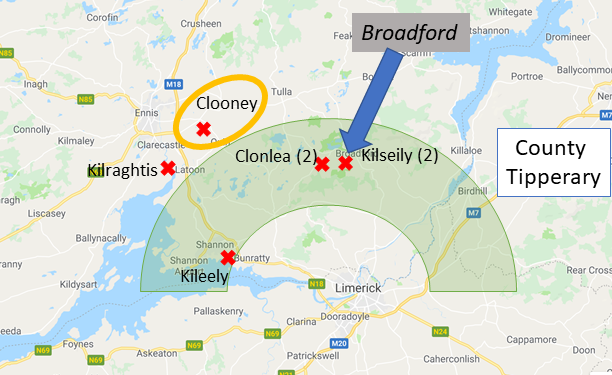 Kilseily Parish includes the village of Broadford where Joseph's future wife was born, and that's where I believe Joseph was born as well.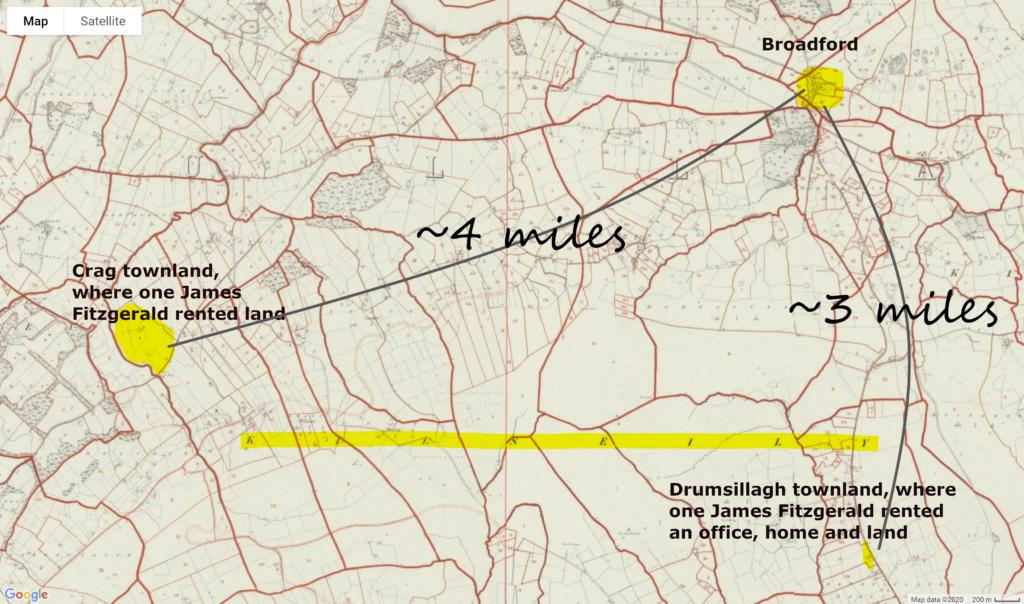 Joseph reported on the 1900 U.S. census that he immigrated to the United States in 1849 at the age of 21. That puts his departure from Ireland smack in the middle of the Great Hunger, which lasted from 1845 to 1852, and reduced Ireland's 8.2m population by more than a 1/4, with more than 1 million dying and another 1+ million fleeing the island to North America and England.
I covered Joseph's likely experience of the Great Hunger in County Clare in my entry for his father-in-law, Richard Burke.
Quick summary: Joseph Fitzgerald fled Ireland in 1849, after surviving three major potato crop failures as well as epidemics of typhus, relapsing fever and dysentery. The worst of the crop failures was over, but no one knew that, and Ireland was still in the midst of hunger and famine, along with general economic and social collapse.
Joseph's grandson wrote more than a century later that "My father told me that it took Joseph Fitzgerald three months to sail from Ireland to this country and that the captain of the ship was drunk most of the time."
If Joseph's transatlantic crossing really took three months, it would have been an extraordinarily long voyage. A typical voyage by sail from Liverpool to New York in the 1850s took about forty days. Three months was enough time for a clipper ship to sail from Liverpool to Australia. Perhaps it was a bit of playful exaggeration, or perhaps Joseph was describing the entire trip from his home all the way to Wisconsin. Perhaps both.
Joseph's grandson wrote that he arrived in Boston, where he had some family. There are no matching records from Boston, and there should be: Boston's ship lists are complete from 1820 to 1890. The Steerage Act of 1819—the first real federal immigration law, while primarily intended to improve conditions for passengers, also mandated that any ship arriving in a U.S. port keep a record of each immigrant's name, age, gender and occupation.
Of course, Joseph still could have arrived in Boston: Cecil Woodham-Smith wrote in The Great Hunger that "Massachusetts forbid passengers to land until an official had examined them, to discover if any had been 'paupers in another country' or were 'lunatic, idiot, maimed, aged, or infirm persons.'… In addition, all passengers were required to pay two dollars 'head money' on landing." Failing any condition meant a return voyage.
These measures were explicitly designed to keep out Irish Catholics refugees without saying so, but both the examination and tax were easily avoided by "landing in small coves on the coast of Massachusetts." Calvin Bailey, Boston's superintendent of alien passengers estimated that in 1845 alone, 17,000 people avoided the tax and examination, compared to 34,000 that arrived normally.
Consider those numbers for a moment: in 1840, Boston had a population of ~93k people, and in 1845, in just the first year of the Great Hunger, as many as 51,000 Irish immigrants may have passed through the city. Massachusetts' population surged by 35% between 1840 and 1850. The entire United States, which had a population of 17 million in 1840, added 1.5 million Irish from the Great Hunger.
Woodham-Smith offered another route for Joseph's immigration that matches a fact related by his grandson Charles F. Clyne in a 1908 book, History of Kane County, Illinois: Both Joseph and his future wife resided for a time in Buffalo, New York, on the shores of Lake Erie and across the Niagara River from Canada.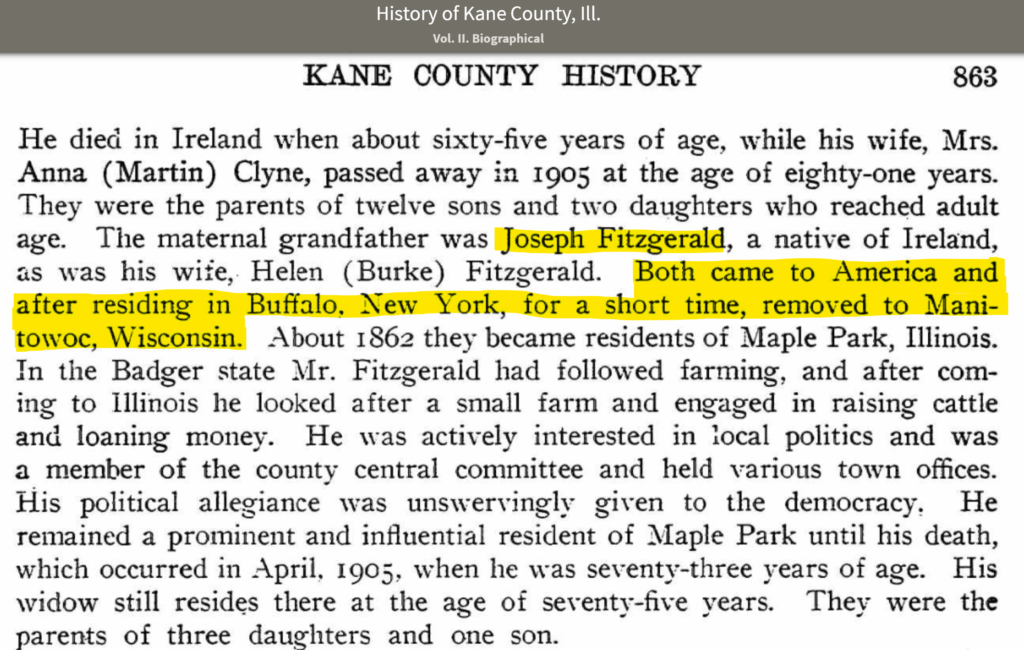 Woodham Smith wrote that "The British government consistently made the passage to British North America cheaper than to United States ports, and, in addition, transported poor emigrants who declared their intention of settling in Canada free, in barges, up the St. Lawrence to the interior. Advantage was taken of the low fare to cross the Atlantic to Quebec in a British Ship, and often the emigrant, by alleging that his intention was to settle in Canada, procured free transport up the St. Lawrence, before making his entry into the United States by the simple method of walking across the border."
The British Crown wasn't keeping immigration records—from the Empire's perspective, a British subject moving from one part of the Empire to another—say from Ireland to Canada—was little different than moving from Cornwall to Coventry. In other words, I can't prove that Joseph Fitzgerald arrived in Canada rather than a U.S. port.
But by 1840, canals made the passage along the St. Lawrence River easy, so our Joseph Fitzgerald could have followed the Inland Passage to Wisconsin via Buffalo. There were even guidebooks for immigrants documenting options. After landing at Quebec City, it was possible to purchase a $0.35 ferry ticket, not including meals, for a seven-day-plus voyage direct to Chicago. Joseph could easily have worked as a laborer in Quebec until he could afford passage to Buffalo, and then again in Buffalo until he could afford passage to Manitowoc, Wisconsin.
And the tiny town of Cato, Wisconsin is where we first encounter contemporary records of Joseph Fitzgerald, when the twenty-seven-year-old married sixteen-year-old Ellen Burke at St. Boniface Catholic Church in Manitowoc on 10 June 1855.
The couple had at least three children together in Wisconsin: Jennie, born in 1857; Mary, born in 1858; and Margaret, born in 1863. Ellen reported in both the 1900 and 1910 U.S. census that she had two more children who died young: it's not clear if they were born in Wisconsin or Illinois.
The family appeared in Manitowoc County in the 1860 census, where Joseph worked as a farm laborer. This was pretty typical for Irish famine refugees: few had any skills beyond planting potatoes, let alone any real education. Their lives as Americans were at the economic fringes. It was their children that managed to achieve a degree of economic stability, and their grandchildren that achieved the American Dream with careers as lawyers & executives, doctors and nurses.
Between 1863 and 1868, after a decade or more in Wisconsin, Joseph and Ellen moved 200 miles south to the village of Lodi in Illinois. The town was renamed Maple Park in 1880. Joseph must have saved enough from his fifteen+ years as a laborer to purchase a property in the village: in 1870, the forty-two-year-old was the proprietor of a saloon on Main Street, and he reported he owned real estate worth $1,200—a pretty good outcome for a famine refugee.
Joseph ran his saloon at least through 1880 when he was fifty-two, and probably well into the 1890s after all three of his daughters married.
Interestingly, his grandson Charles Clyne didn't mention that Joseph ran a saloon. He related that "Mr. Fitzgerald had followed farming, and after coming to Illinois he looked after a small farm and engaged in raising cattle and loaning money."
Clyne added that Joseph was "actively interested in local politics and was a member of the country central committee and held various town offices."
Considering the strength of the temperance movement at the time and Charles' job as a U.S. Attorney, perhaps he was being politically cautious.
By 1900, when Joseph was seventy-two, he wasn't running his saloon. He reported to the census taker that he was a landlord.
On 4 Apr 1904 around 4pm in the afternoon, Joseph Fitzgerald died of heart disease. Despite spending most of his adult life running a saloon, the person reporting his death—probably his son James—listed his profession as farming as well.