In my intro video for Irish Catholic genealogy, I listed three things I try to do when connecting my Irish-American ancestors to their family in Ireland:
Remind myself that every name will have multiple individuals.
Narrow it down to one townland.
Find at least one more supporting fact.
Now I'm going to try to apply this to my second great grandfather, Joseph Fitzgerald. He was born in County Clare on 5 May 1828 according to his tombstone. When he married Helena Burke in Manitowoc, Wisconsin in 1855, he told County registrars that his parents were James and Catherine Fitzgerald.
It feels like that should be enough to figure out where Joseph's parents lived. While there aren't many Irish sources from the 1820s to the 1850s, there is Griffith's Valuation, which recorded heads of households leasing private land. A quick search on James Fitzgerald at askaboutireland.ie yields eleven entries (excluding landholders, who were Protestant). That's in a place that is just slightly larger than Rhode Island.
As I mentioned before, it's critical to find your ancestor's townland, and finding maps of townlands is much easier than you think. Just use Bing Maps. Full disclosure, I work for Microsoft, but I'm not shilling for my employer in this case. Bing maps will show you townland names. Google Maps will not.
That said, if you're looking at Griffith's Valuation, do your search at aksaboutireland.ie—the site will pull up a map for you.
So… where are all those James Fitzgeralds in County Clare? The red Xs in the image below.
That's a lot of locations, but thankfully, stories passed down to my grandfather tell that James' son was born about ten miles from Limerick, and that green band approximates five to fifteen miles from Limerick.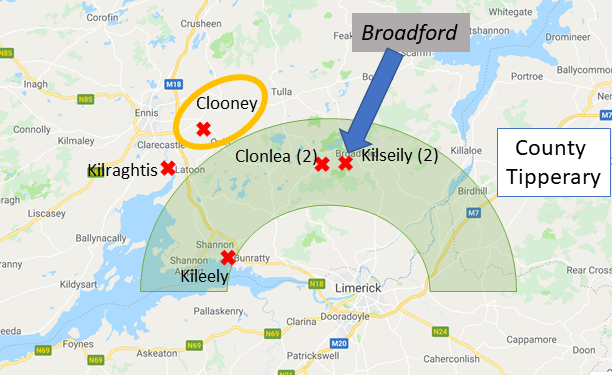 Now, James' son, Joseph, married a woman from the town of Broadford, which is 12 miles from Limerick, and considering how chain migrations work—people from one village in the old country often moved to the same neighborhoods in the new world—odds are good that Joseph was from Clonlea or Kilseily townlands near Broadford.
Going great, right? I don't necessarily even need to find a baptismal record for my Joseph around 1828. All I really need to find is one baptismal record in the right parish between say 1815 and 1840 where the parents are James and Catherine Fitzgerald and I'm golden.
Unfortunately, I can't find such a record. The best is for the 1834 and 1843 baptisms of Patrick and Bridget respectively, born to James Fitzgerald and Catherine Halpin from Clooney townland. That's 20 miles from Limerick, not ten. Plus, family oral history notes that James and Catherine had boys named Mike and Tom, and we're not seeing entries for those.
So… another strategy I've found useful is to eliminate as many other people with the same name as I can. In other words, if I can figure out that all James Fitzgeralds from close to Limerick were not married to Catherines, then I can feel more confident about the Clooney record.
I've looked in a bunch of different places, however, and… no joy. I can fill in the details of some of the couples, but not for the James Fitzgeralds close to Broadford.
Why don't I just accept this couple as my ancestors?
The James and Catherine from Clooney townland just don't meet my rules. I don't have records for the same fact in both the U.S. and Ireland. I don't have a clean townland match—if I'd found something close to Broadford, I would've taken it. And… I have to remember all those other James Fitzgeralds.