Michael A. O'Neill and Elizabeth Tice
First published 28 December 2016
Last updated 4 March 2019
Redmond, King, Washington, USA
The documentary trail of George Slough [K] (via Sorting out the Sloughs: George)—from his 22 November 1811 will in Lincoln County, Ontario, to land records in Berks County, Pennsylvania—effectively ends (or begins) with his 1764 marriage to Catharina Gieg. None of those documents, however, suggest his year or place of birth, nor explicitly establish any sibling or other blood relationships.
At best, we can estimate his birth at 1735 (considering that the average age for men at first marriage in 1750s Germantown was twenty-nine);[1] that it must be no later than 1743 (if twenty-one is our minimum age for marriage); and no earlier than 1731 if he was eighty-years-old when he died in 1811/12.
As to where George [K] was born, it is possible it was in Pennsylvania, but of the ~64,800 ethnic German immigrants who came to the colony prior to 1760, only 9% arrived before 1730 (and 30% before 1740).[2] I have identified four George Sloughs born before 1760 in Pennsylvania as part of that 9%: of them, two died without issue, a third disappeared from the documentary record after his birth, and a fourth appeared to have no children.
Considering those facts, it is far more likely that George was born in modern day Germany, where digitized baptismal records identify at least eight Jerg/Georg Schlauchs born between 1731 and 1743:[3]
H. Jerg Schlauch, born 28 August 1733 to Jacob Schlauch and M. Sophia Riedel in Waldbach.
Georg Sebastian Schlauch, born 22 October 1733 in Eberbach. He passed away on 12 February 1805 in the same place.
J. Georg Schlauch, born 8 July 1733 to J. Georg and A. Catharina Schlauch in Adelshofen. His baptismal record is marked with a cross, signifying he died in Adelshofen (sometime before his brother, J. Georg Dieterich Schlauch was born in 1747).
J. George Schlauch, born to J. Michael Schlauch and A. Maria Leuchtl, and baptized 8 March 1738 in the parish of Nehren und Schingen near Tubingen.
H. Jerg Schlauch, born to H. Jacob Schlauch and A. Maria Mauser, and baptized 29 October 1739 in Nehren.
J. George Schloich, born 1739, who died on 2 February 1807 in Karlsruhe.
J. Georg Schlauch, born about 1740, who died on 17 February 1772 in Maichingen.
J. Georg Schlauch, born 03 September 1741 in Adelshofen to J. Andreas Schlauch and Albertina Ripp. His baptismal record is marked with a cross, signifying he died in Adelshofen (sometime before his brother, J. Georg was born in 1755).
Only Georges [1], [4] and [5] are not immediately accounted for, while either [6] or [7] could represent the death of [4] or [5]. Let's look at [1], [4] and [5] more closely.
Jerg [1]
Baptismal records note a sister born in 1736, but nothing else for either the parents or children. It is possible that Jerg [1] and his family immigrated to Pennsylvania, with Jerg [1] being the same person as George [K], but there is no further supporting evidence one way or another.
Georg [4]
Johann Georg Schlauch was born to J. Michael Schlauch (whom I refer to as Michael II) and A. Maria Leuchtl, and baptized in the parish of Nehren und Schingen on 8 March 1738.
Michael II had three other children with A. Maria Leuchtl:
J. Michael III, who was baptized on 2 November 1730 in Gomaringen, a village adjacent to Nehren.
J. Jacob, who was baptized on 6 October 1732 in Gomaringen.
M. Rosina, who was baptized on 3 June 1734 in Gomaringen.
Michael II re-married on 22 April 1738, suggesting that Anna Maria Leuchtl, Georg's mother, died either giving birth to Georg, or shortly thereafter.
Michael II had one child with his new wife, Anna Maria Krausen:
Barbara, who was baptized on 5 February 1744 in the parish of Nehren und Schingen.
A Michael Schlauch immigrated to Pennsylvania in 1747, and several sets of records can tie him to the Michael Schlauch of Nehren. While I can only speculate about Jacob[4] and Rosina[5], there are solid links to records in Berks County, Pa. for Michael III and Barbara.
For Michael III, the critical record is a 19 May 1808 burial entry for the New Holland Church in Lancaster County, which notes that Michael was 77 years old, and "about" (etwa in German) eight months.[6] This would put his birth in mid-September of 1730—five to six weeks before the Gomaringen baptismal record. While there are a number of other Michael Schlauchs, none of them were born in the fall of 1730. Considering that "eight months" was explicitly noted as an approximation by the recorder, this is about as perfect a match as one could hope for the period.[7]
For Barbara, the compelling record is the 9 November 1761 marriage of Johannes Giegel (a widower) to Barbara Slough, daughter of Michael Slough (II) of Brecknock Township.[8] Then in 1783, Johannes and Barbara Giegel baptized a son, J. George Giegel.[9] This would make Michael II's Barbara eighteen when she married (a very young age for ethnic Germans, but not unrealistic), and thirty-nine when she had a son twenty-two years later.
To fill in the story, Michael Schlauch II arrived in Philadelphia in 1747[10] when his eldest was seventeen, and his youngest three. By 1756 was living in Berks County, where he was a communicant at the Oley Hill Church.[11] He was also listed in a 1759 tax record,[12] though at this point, his son, Michael III, was thirty, meaning this and future records could be for either father or son. I have been unable to find any probate records for Michael II, but assume he died in the 1760s before property and tax records could clearly show two Michael Schlauchs.
In short, Georg [4]'s father Michael Schlauch II and two of his siblings—Michael III and Barbara—moved from Nehren/Gomaringen to the Brecknock Township area in Berks/Lancaster counties.
Connecting George [K] to the family of Michael Schlauch II
George [K] has a clear connection to the family of Michael Schlauch II in Berks County.
First, is the 1783 baptism of George Giegel, son of Johannes Giegel and Barbara Slough: George [K] and Catharina Slough were named as the godparents. While no relationship is described between George [K] and Barbara on that baptismal record, the simplest explanation is that George [K] was closely related to Barbara Giegel and her father, Michael Schlauch II. Mere coincidence is the more improbable scenario at a time when people emigrated with and lived close to their blood relations.
Second are a set of property records linking Michael Schlauch III with George [K].
The strongest link is one formed by J. Nicholas Jost, who was closely associated with both men: In 1773/1774, George [K] and Nicholas Jost filed for a warrant for Brecknock township land.[13] And according to a 26 December 1768 application for land made by one Bob Anthony in Cumru, Berks County, Nicholas "Yost" and a Michael "Sclang" were Anthony's neighbors.[14] Sclang is probably a mis-transcription of Schlauch, while Yost is just an alternate spelling of Jost (both are pronounced Yost in German). In other words, George [K] and Nicholas Jost knew each other well enough to buy land together, and Nicholas Jost was neighbors with Michael Slough.
A Warrantee township map of Brecknock in Berks County also shows Michael Slough and George Slough [K] residing in close proximity, probably within walking distance of each other.[15]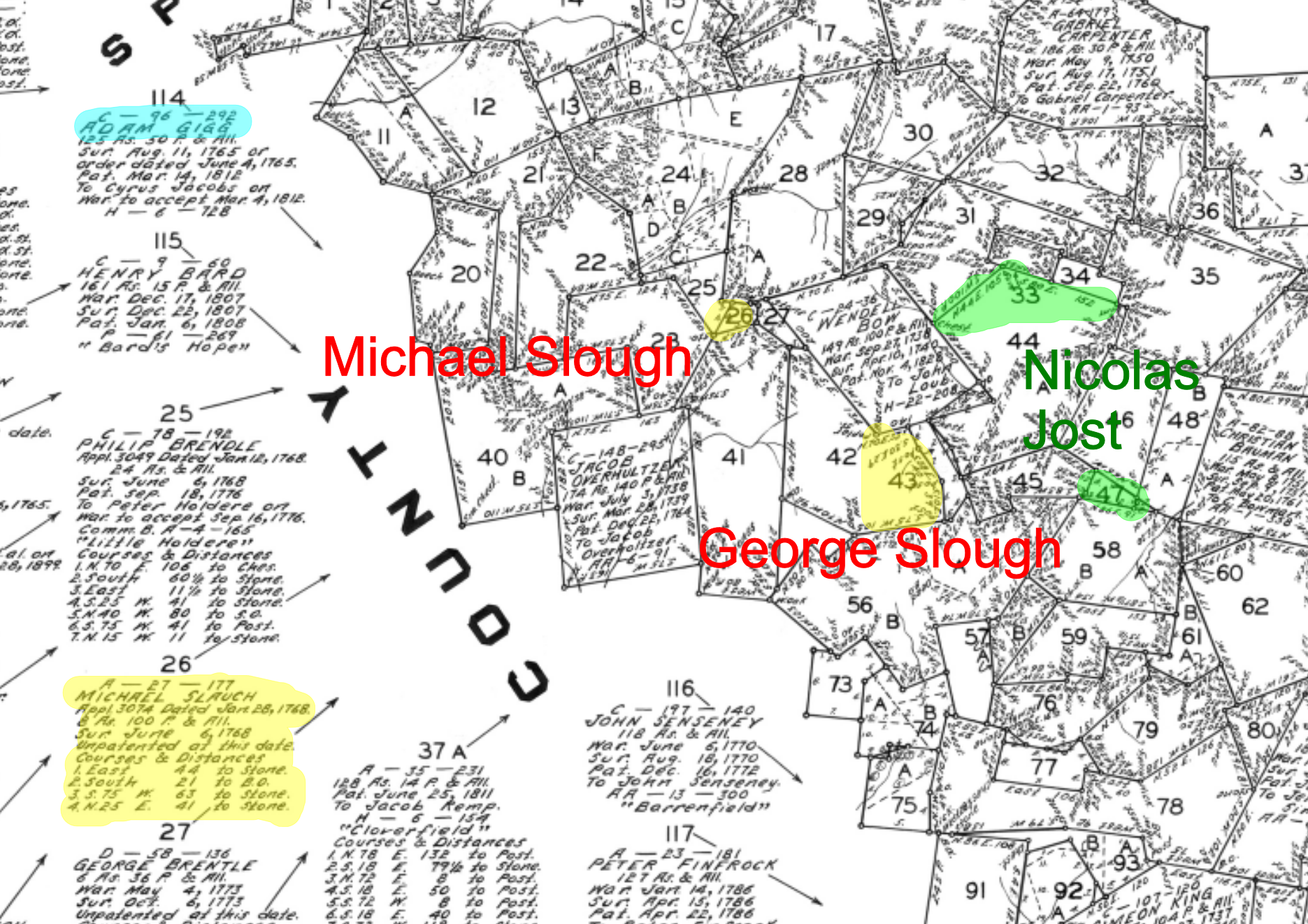 Again, these property records do not describe a direct relationship between George [K] and Michael III. But add in tax records associating Michael III with George [K]'s father-in-law, Adam Gieg, and there is a clear pattern of interlocking business and spiritual relationships that one would expect from intermarried families.
The conclusion: George [K] and Georg [4] were indeed the same person.
Connection to Pelham, Ontario
What drove Georg to leave his family in Pennsylvania is unclear, but he did appear to have an economic disadvantage compared to his brother Michael III. When Michael III acquired 50 acres of land in Berks County in 1768,[19] George [K] was recorded as a day laborer in 1769, 1770 and 1772.[20] George [K] was able to acquire 20 acres in partnership with Nicholas Jost in 1774,[21] but such a tiny parcel probably wasn't enough to support his growing family.
More than a decade later, George [K]—now in his late-forties with eleven children—must have heard from a friend, associate or neighbor that the British Crown was granting large tracts of land on the Niagara Peninsula at little to no cost (to encourage settlement and cement their hold on the sparsely populated Canadian colonies).[22] The offer must have been extremely attractive to a man in the prime of his life eager to provide his own children a better economic start than he had been given–attractive enough to leave his and his wife's blood relations behind.
The gamble paid off, as George was initially granted 200 acres, and then an additional 600 acres in 1797.[23] That amounts to 1.25 square miles or 3.23 square kilometers—a vast landholding compared to what many ethnic Germans could afford to acquire in Pennsylvania, and positively princely for Nehren, which is only 3.3 square miles (according to Wikipedia).
Jerg [5]
Baptismal records note three full brothers and two half siblings:
Caspar, born 13 December 1741 and baptized in Nehren. He married Rosina Steinhilber, with whom he had at least five children. He died 8 April 1827, and was buried in Schingen (there is a village named Öschingen adjacent to Nehren)
Michael, who was baptized on 24 June 1744 in Nehren, and died before his brother's birth a year later.
Michael, who was baptized on 21 May 1745 in Nehren. He married Katherine Mauser and had at least one daughter. He died 27 November 1808, and was buried in Schingen.
A. Maria, a half-sister, who was baptized on 22 November 1749 in Nehren.
H. Martin, a half-brother, who was baptized on 8 September 1745 in Nehren. He married A. Barbara Wagner on 9 October 1781 in Nehren, and they had at least one daughter together. His baptismal record noted that he died 19 October 1844, so it must have been close by.
None of these records are particularly revealing or helpful in resolving whether Jerg [5] is the same man as George [K].
It is possible to construct a narrative connecting Jerg [5] to George [K], but it is far less tidy than the story of Georg [4], who simply immigrated with his father. This narrative requires three assumptions:
Jerg [5]'s cousin, Georg [4], died in Germany (mind you, his baptismal record doesn't include a cross signifying he died)
Jerg [5]'

s u

ncle, Michael II, did not immigrate to Pennsylvania until 1754.
Michael II was willing to care for his nephew in Pennsylvania even though his brother Jacob still lived.
In this narrative, Jerg [5] was seven or eight years old when his mother passed away. His father remarried in 1748 when Jerg [5] was nine.
Ethnic German village culture and prevailing law would have protected Jerg [5] from nearly all aspects of a wicked step-mother scenario. Inheritance was serious business, and in cases of remarriage after the death of a spouse, the family of the deceased would typically take an active role in guarding any financial assets from misappropriation by a new step-parent.[16]
This didn't mean, however that when resources were scarce, a step-parent wouldn't favor their own children—or even, in more extreme cases, favor them in good years as well.[17] But the treatment would more likely be petty than serious, considering the potential communal consequences to the step-parent in a small village where everyone was related to everyone else.
Still, with ethnic Germans in the Baden-Würrtemberg area practicing either partible inheritance (where all children received equal shares of the estate) or ultimogeniture (where the youngest son would inherit both the land and the responsibility of caring for his parents in their old age), downward mobility was a real possibility. One study of a northwest-German village from 1771 to 1860 showed that 37% of the children of people who owned large farms could not secure the same status as their parents through marriage and/or inheritance. For poorer families, the village council even had the power to prevent a marriage if the prospective couple lacked the resources to support a family.[18]
As Jerg [5]—Jacob's eldest son from a first marriage—approached twelve or thirteen, an age when he would likely have expected to begin learning a trade, he may have considered his prospects in Nehren to be dim. Upon learning that his uncle, Michael II, was about to uproot his family and begin the long journey to Pennsylvania, Jerg [5] might have asked for his share of his father's and mother's property in cash to pay for the costly journey, rather than waiting for his father to slowly dole out his inheritance over many years, one tiny parcel at a time (or perhaps, to dole out nothing at all). If Jacob could pull some cash from his savings, it might have been enough to pay for Jerg [5]'s entire voyage. But more likely, it would only have been enough for the tolls levied by various principalities along the Rhine—maybe the voyage to England as well—forcing Jerg [5] to pay for the passage to Philadelphia with a period of indentured servitude in Pennsylvania.
While the indenture is purely speculation, it would almost surely have ended before 1764 when twenty-four-year-old Jerg [5] married Catharina Gieg (marrying while indentured required the permission of the servant's owner).
The further the narrative proceeds, the more assumptions required, the more unlikely the story becomes. In fact, once the story merges with George [K]'s life, the only benefit of the story is that, as a cousin, it would be easier for Jerg [5] to leave his blood relations in Pennsylvania than it would be for Georg [4].
Potential flaws
There are a few potential flaws in the conclusion that Georg [4] and George [K] were the same person.
A man named Jerg Schlauch married Agnes Halfinger in Nehren in 1782.[19] One would expect this man to be in his late twenties (suggesting a birth in the mid-1750s), rather than a man in his forties such as Georg [4] or Jerg [5]. Still, that wasn't too old to get married. The transcription of the record doesn't seem to name any members of this Jerg's family. While I do have some ability to read and/or translate German script from the period, it is limited. Regardless, I am unable to identify any genealogical information in the record. There was a Johann Georg Schlauch who was born in 1755 in Adelshofen[20] and died in 1801 in neighboring Berwangen, but both villages are over 80 miles away from Nehren.
Jergs [6] and [7] both represent the deaths of men born about the same time as Jerg [4] and Georg [5]. It is possible that either of these men represents the death of Jerg [4] or [Georg [5] and/or the death of the man who married Agnes Halfinger. I consider either scenario to be unlikely: a complex web of seignorage laws meant that emigrants had to pay hefty fees to their local feudal lord for manumission, approval, removal of their movable property, and/or sale of real property. Emigration to villages in another German principality was possible, but the new feudal lord could also assess hefty fees to join a new community, without which an immigrant might not be able to practice their trade or even get married. Unless your given profession was in high demand in a new village, the economic incentives encouraged you to stay close to where you were born. On the other hand, simply packing up and leaving "illegally" with a few possessions to a more distant destination which held the promise of plentiful land—whether that was Pennsylvania or Poland or Russia—could be, oddly enough, a more rational choice. (What was your feudal lord going to do? Follow you to Pennsylvania to collect payment?) [21]
The review of records in Germany was limited to digitized records available on ancestry.com. While researching another branch of the Schlauch family in the village of Adelshofen, I discovered several records in the microfilm of the parish register that still haven't been digitized on ancestry.com. More broadly, German parish registers—like their Pennsylvania counterparts—aren't comprehensive, missing deaths and marriages the further one goes back in time, while damage may make some entries unreadable.
Those reservations aside, unless more records become easily available, the conclusion that George [K] was the son of Michael Schlauch II and A. Maria Luechtel of Nehren is the most plausible.
---
End Notes
[1] Average age at first marriage for Germantown, Penna. families between 1750 and 1759 was twenty-nine for men and twenty-five for women. Fischer, David Hackett. Albion's Seed: Four British Folkways in America. Oxford University Press. New York. 1989. p 487.
[2] Fogleman, Aaron Spencer. Hopeful Journeys: German Immigration, Settlement and Political Culture in Colonial America, 1717-1775. University of Pennsylvania Press. Philadelphia, Pa. 1996.
[3] Kirchenbuch, 1655-1963. Evangelische Kirche Adelshofen (A. Eppingen). FHL 1189094.
Ancestry.com. Baden, Germany, Lutheran Baptisms, Marriages, and Burials, 1502-1985 [database on-line]. Provo, UT, USA: Ancestry.com Operations, Inc., 2016.
[4] There is a pocket of Sloughs around Cocalico Township, Lancaster County, which is immediately adjacent to Brecknock. I don't have enough evidence to identify very much about the ancestry of these men, but there is a record of a Margaret, widow of Jacob Slough, marrying Christian Bixler in 1785. Bixler was born in 1733, suggesting that both Margaret and her deceased husband were of a similar age—a perfect match for Michael II's brother born in 1732.
[5] J. Nicholas Jost married a woman named Rosina, according to a 19 June 1774 baptismal record (Parish record. Allegheny Reformed Church, Brecknock Township, Berks County. p. 3. FHL 20345). That would put Rosina at age 30, well within her child-bearing years.
[6] Church records, 1729-1949: Trinity Lutheran Church (New Holland, Lancaster County, Pennsylvania). Historical Society of Pennsylvania. 1949.
[7] Could Michael II and Michael III be the same man? Unlikely. A man who died in 1808 was probably too young to be Barbara Giegel née Slough's father. If we take typical marriage ages for ethnic Germans at the time (i.e., if Barbara married Johannes Giegel at the age of 25, and Michael III was 30 when Barbara was born) this would place Michael III's birth at around 1706, making him an astounding 102-years-old when he died. Only if we choose the youngest possible ages (if Barbara was just 18 when she married in 1761, and Michael III was 18 when she was born) does Michael III reach a reasonable age of 83 when he died around 1808. Additionally, Michael III's 1808 will listed his daughter Barbara as married to a man named Fultz, not Giegel.
[8] Schwalm, Glenn P. & Frederick S. Weiser (trans. & ed.). Record of Pastoral Acts at Trinity Evangelical Lutheran Church, New Holland, Lancaster County, Pennsylvania, 1730-1799. The Pennsylvania German Society. Breinigsville, Penna. 1977.
[9] Schwalm, Glenn P. & Frederick S. Weiser (trans. & ed.). Record of Pastoral Acts at Trinity Evangelical Lutheran Church, New Holland, Lancaster County, Pennsylvania, 1730-1799. The Pennsylvania German Society. Breinigsville, Penna. 1977.
[10] Ancestry.com. U.S. and Canada, Passenger and Immigration Lists Index, 1500s-1900s [database on-line]. Provo, UT, USA: Ancestry.com Operations, Inc, 2010. Original data: Filby, P. William, ed. Passenger and Immigration Lists Index, 1500s-1900s. Farmington Hills, MI, USA: Gale Research, 2012.
[11] oley
[12] Montgomery, Morton L. History of Berks County in Pennsylvania. Everts, Peck & Richards. Philadelphia. 1886. pp. 1181-2.
[13] Warrantee Township Maps. Pennsylvania Historical & Museum Commission. Accessed via <http://www.phmc.state.pa.us/bah/dam/rg/di/r17-522WarranteeTwpMaps/r017-Map2582-Berks-BrecknockWeb.pdf> on 27 December 2016.
[14] McCrea, Kenneth D. Pennsylvania Land Applications Vol. 1: East Side Applications, 1765-1769. Genealogical Society of Pennsylvania. Philadelphia. 2003. p. 296.
[15] Warrantee Township Maps, op. cit.
[16] Scheer, Teva J. Our Daily Bread: German Village Life, 1500-1850. Adventis Press. North Saanich, B.C. 2010. Chapter 8: Marriage and Inheritance.
[17] Scheer, op. cit. See also, Haynes, Emma Schwabenland. My Mother's People. Not published.
[18] Scheer, op. cit.
[19] Ancestry.com. Württemberg, Germany, Lutheran Baptisms, Marriages, and Burials, 1500-1985 [database on-line]. Provo, UT, USA: Ancestry.com Operations, Inc., 2016.
[20] Ancestry.com. Baden, Germany, Lutheran Baptisms, Marriages, and Burials, 1502-1985 [database on-line]. Provo, UT, USA: Ancestry.com Operations, Inc., 2016.
[22] Fogleman, op. cit.