There's a species of marine iguana on Isla Española called a Christmas iguana, because around Christmas, they start to turn green and red for mating season. So we were on Isla Española at the right time of year to see this: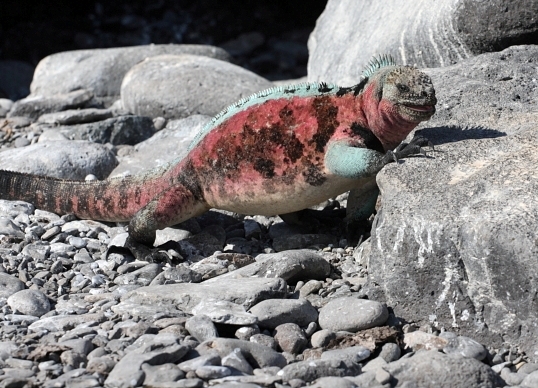 But I'm mentally ready for the next destination, and I could feel it on this, the last hike of the cruise. The tiny, 8×8 cabin (probably smaller, actually); showering with one hand gripping a safety bar to keep from falling; sharing twin-sized sheets on a double bed… I'm ready for our check-in at the Finch Bay Hotel on Isla Santa Cruz. My heart was not in this hike.
It was also bakingly hot, and I've seen so many Nazca boobies and Frigate Birds and Blue-footed boobies that I had to see an interesting pattern to the shot to make it worth while. Actually, my only agenda point on this hike was to get a better shot of a pair of Nazca boobies, and I got exactly what I wanted.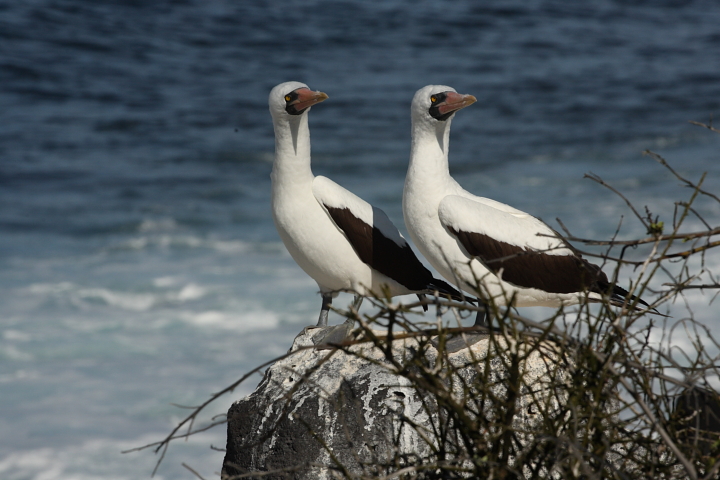 Unexpected bonus: the Nazca boobies were nesting on Isla Española, and if you look carefully at the shot below, you can see a chick beneath the booby.